Los mejores portátiles Huawei
Los mejores portátiles Huawei de la línea MateBook no solo se parecen, sino que también comparten especificaciones muy similares. Estas similitudes pueden hacer que elegir entre ellos sea un proceso difícil para los clientes confundidos acerca de qué modelo es el adecuado.
Antes de continuar con nuestras mejores selecciones de portátiles Huawei , debes tener en cuenta la mala suerte reciente de Huawei con el gobierno de los EE. UU. Los problemas de Huawei comenzaron con la pérdida de acceso a Android, gracias a que el Departamento de Comercio puso en la lista negra a la compañía y la orden ejecutiva del presidente Trump.
Afortunadamente para Huawei, Microsoft e Intel declararon que continuarán brindando actualizaciones de software y nuevos controladores para los dispositivos Huawei que utilizan las tecnologías de esas compañías, y las cosas pueden estar mejorando para Huawei, ya que el gobierno de EE. UU. señaló que levantará la prohibición que impide a las empresas venta de hardware y software a Huawei.
Solo el 1 de julio, Estados Unidos declaró oficialmente a Huawei una amenaza para la seguridad nacional. Junto con ZTE, a Huawei se le impedirá hacer negocios con operadores estadounidenses y jugar un rol en las futuras redes 5G.  Huawei no ha lanzado un nuevo portátil desde que su relación con los EE. UU. comenzó a declinar.
Los mejores portátiles Huawei
1. Huawei MateBook D
El MateBook D ofrece un gran conjunto de puertos para usuarios con muchos dispositivos heredados. Los puertos USB tipo A duales significan que su unidad flash existente y los cables HDMI funcionarán sin una base.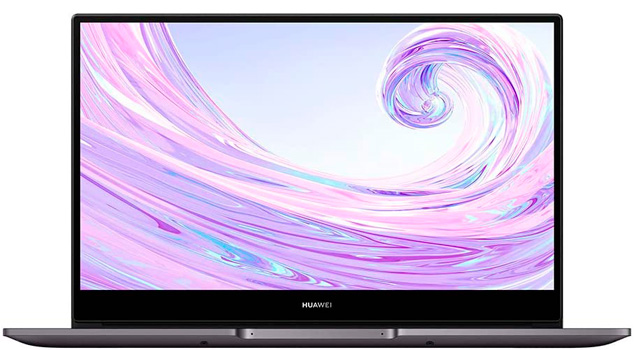 2. Huawei MateBook 13
El MateBook 13 de 2.91 libras y 11.3 x 8.3 x 0.6 pulgadas es el MateBook más liviano.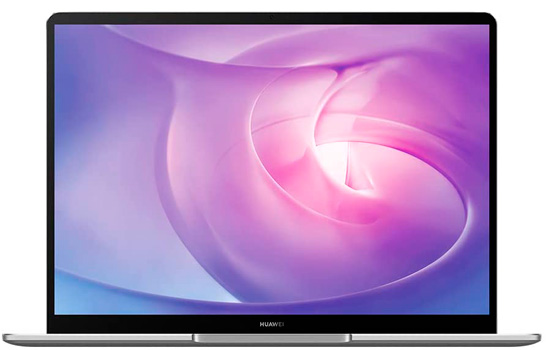 3. Huawei MateBook X Pro
El mejor portátil de Huawei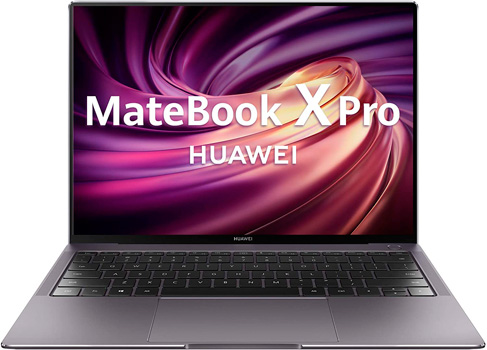 Entre los mejores portátiles Huawei, el MateBook X Pro es el buque insignia. Dentro de este ordenador portátil, obtienes una pantalla súper nítida de 3000 x 2000 que hace que las pantallas 2K (MateBook 13 y 14) y Full HD (MateBook D) en los otros modelos se vean aburridas en comparación.
La pantalla del MateBook X Pro es tanto la más colorida como la más brillante, ya que su edición 2018 produjo el 124 por ciento del espectro sRGB y 458 nits de brillo. Esas mediciones superaron el 122 por ciento, 318-nit MateBook 13 y el 73 por ciento, 241-nit MateBook D.
---
Encuéntralo en Amazon.com
---
7 laptops en oferta
Bestseller No. 1
Huawei Matebook D14 Laptop - 14'' FHD Screen with 4.8mm bezels, AMD Ryzen5 3500U with Radeon Vega 8, 8 GB DDR4 RAM, 512GB NVME SSD Windows 10 International Version No Warranty
Full view touch Display: IPS display, Resolution: 1920 x 1080 (FHD) 14-inch FHD screen with 4.8mm bezels Anti-glare, glossy display" , Screen-to-body ratio of 84, thickness of 15.9mm contrast ratio, Aesthetic design very portable and easy to use, As small and powerful as your phone charger, Automatically carry on where you left off, Drag files/images/text between your virtual phone and laptop ,Use the mouse to operate your phone ,Handle phone and laptop messages from your laptop.
Light and thin laptop with long battery life: New generation AMD CPU & GPU with Battery life up to nearly 10 hours powered with Type-C charger & fast charging 56 Wh gives you Long Battery Life. Having weight of just 1.38 kg & Shark Fin 2.0 heat dissipation. Huawei's full view display and continues the Huawei tradition of lightweight and streamlined laptops with minimal bezels. With a greatly enhanced CPU efficiency, the laptop is perfect for a variety of complex office scenarios.
Powerful performance: AMD Ryzen5 3500U,with Radeon Vega 8 Graphics, also having powerful Wi-Fi 2x2 MIMO, new Gen Intel Processor boosts performance.
Innovative cooling design: Huawei Shark Fin 2.0 fan with S-shaped blades cooling solution also with low computer noise, Automatically protects against overheating, revolutions per minute and increases airflow, Huawei Multi-Screen Collaboration , Fingerprint login , One-touch login & startup ,Recessed Camera, TÜV Rheinland Certified, Protects your eyes by reducing blue light. International Model, No Warranty.
Bestseller No. 2
Huawei Matebook 13 Signature Edn. Laptop - 13" 2K Touch, 8th Gen i5, 8 GB RAM, 256 GB SSD, Silver (Renewed)
Thin, light & portable: weighs only 2.86 pounds (or less with integrated graphics) and measures 11.26" wide x 8.31" deep x .59" high
Fullview touch Display: feels larger than 13" - thin Bezel at only 4.4mm, 88% screen-to-body ratio, 2K (2160x1440) touchscreen, 200ppi, 1000: 1 contrast ratio
Powerful performance: 8th Gen Intel Core i5 8265U Processor boosts performance up to 40% over its predecessor.
Innovative cooling design: Huawei Shark fin design 2.0 cooling solution reaches up to 8, 000 revolutions per minute and increases airflow approximately 25% more than conventional laptop fans
Bestseller No. 3
Huawei MateBook X Pro Signature Edition Thin & Light Laptop, 13.9" 3K Touch, 8th Gen i5-8250U, 8 GB RAM, 256 GB SSD, 3:2 Aspect ratio, Office 365 Personal Included, Mystic Silver - Mach-W19B
World's First FullView Display: Immersive 13.9-inch 3K touchscreen with 91% screen-to-body ratio, only 0.57-inch thin and weighs only 2.93 lbs., perfect for at-home or on-the-go computing
Powerful Inside: Windows 10 Home Signature Edition comes clean with no bloatware to slow you down. 8th Gen Intel Core i5 8250U processor boosts performance up to 40% over its predecessor
Home Theater: 3K touchscreen with 3, 000 x 2, 000 resolution, 1500:1 contrast ratio and 260 PPI allow you to see vivid details when viewing HD content. 2nd Gen Dolby ATMOS for immersive audio
One Touch Power Button: Enabling users to power on the notebook, finish identity authentication through Windows Hello and access the desktop in less than 8 seconds
Bestseller No. 4
Huawei MateBook X Signature Edition Ultraslim Laptop, 13" QHD (2K), Intel Core i7-7500U, 8GB RAM, 512GB SSD, Fingerprint, Office 365 Personal, MateDock v2.0, Prestige Gold
At just 12.5mm thick and 2.31 lbs., the Mate Book X is as thin as a magazine but with the full functionality of a PC running Windows 10 Home and up to 7th Generation Intel Core i7 processor
Features a 2K display (2160x1440) protected by Corning Gorilla Glass and a 4.4mm narrow bezel with 88% screen screen-to-body ratio, the best of any notebook
World's first 13-inch notebook to launch Dolby Atmos Sound System providing an immersive sound experience with Dolby custom-designed and tuned speakers
The fingerprint sensor serves as a power button, enabling users to unlock the notebook, finish identity authentication and access the Windows desktop easily and safely with a single touch
Bestseller No. 5
Huawei Matebook 13 Signature Edn. Laptop - 13" 2K Touch, 8th Gen i5, 8 GB RAM, 256 GB SSD, Office 365 Personal 1-Year, Silver(Us Warranty)
Thin, light & portable: weighs only 2.86 pounds (or less with integrated graphics) and measures 11.26" wide x 8.31" deep x .59" high
Fullview touch Display: feels larger than 13" - thin Bezel at only 4.4mm, 88% screen-to-body ratio, 2K (2160x1440) touchscreen, 200ppi, 1000: 1 contrast ratio
Powerful performance: 8th Gen Intel Core i5 8265U Processor boosts performance up to 40% over its predecessor.
Innovative cooling design: Huawei Shark fin design 2.0 cooling solution reaches up to 8, 000 revolutions per minute and increases airflow approximately 25% more than conventional laptop fans
Bestseller No. 6
Huawei MateBook Signature Edition 2 in 1 PC Tablet, 4+128GB / Intel Core m5 (Space Gray)
2-in-1 PC running Windows 10 Home with a 6th Generation Intel Core m5 processor
World class security with a ultra-fast fingerprint sensor on the side that lets you unlock with a single touch
12" IPS display with 2160x1440 resolution with 160° wide viewing angle and accurate colors for watching your favorite videos and editing photos
Sleek and lightweight design is less than 1.5 lbs. and 6.9mm thin for a truly on-the-go experience
Bestseller No. 7
Huawei Kepler MateBook D 14" - AMD R5 - 8GB+256GB, Mystic Silver
Premium & Stylish: Metallic unibody in Mystic Silver, only 0.62-inch thin and 3.5 pounds
Maximized productivity: Full-size chiclet backlit keyboard, largest possible clickpad for a 14-inch notebook, USB-C, USB-A, HDMI ports, and 57.4 Whr large capacity battery packed in slim body
Fast & Powerful: Windows 10 Signature Edition comes clean with no bloatware to slow you down and powered by an AMD R5 processor
Touch Screen: Ultra-slim bezel at only 5.2mm, 1920x1080 Full High Definition (FHD), 16:9 wide IPS LCD display