Qué es un teclado mecánico y por qué es mejor para escribir y para gaming
Esta es una guía para principiantes acerca de qué es un teclado mecánico: cómo funciona y cómo puede mejorar el rendimiento en la escritures, blogging y gaming.
¿Qué es un teclado mecánico?
Un teclado mecánico es un teclado de computadora que tiene interruptores debajo de cada tecla, en vez de las membranas de goma que se usan en la mayoría de los teclados comunes.
Los interruptores físicos dan a los teclados mecánicos una sensación menos «blanda»: cada pulsación de tecla se puede sentir claramente, lo que los hace perfectos para escribir con precisión.
¿Para quiénes son ideales los teclados mecánicos?
Los teclados mecánicos son increíblemente populares e ideales para:
Mecanógrafos táctiles
Programadores
Gamers
Escritores
Y para quienes dependen de los teclados para su trabajo.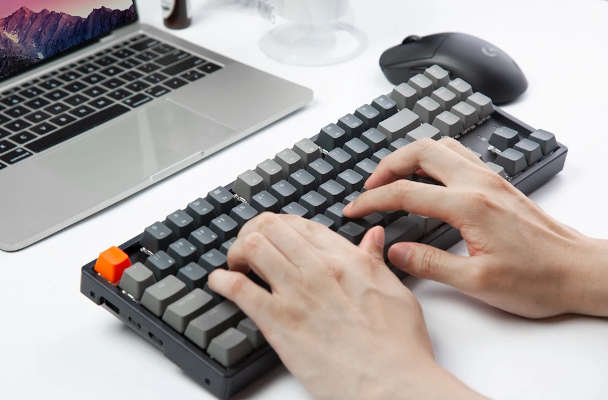 Diferentes tipos de teclados
La mayoría de los teclados de computadora tienen el mismo aspecto: tres filas de letras, una fila o dos de números y una gran cantidad de signos de puntuación y teclas de función. Pero aunque se ven similares, los teclados pueden variar enormemente cuando se trata de cómo funcionan en el interior.
La mayoría de las personas utilizan hoy en día uno de los dos tipos de teclados: teclados de membrana y mecánicos.
Los teclados de membrana, el tipo más común, tienen una especie de cúpula de goma debajo de cada tecla. Cuando presiona una tecla, la goma se comprime y la tecla hace una conexión eléctrica con los cables del teclado.
Los teclados mecánicos son muy diferentes: en lugar de goma, un teclado mecánico tiene un interruptor de plástico debajo de la tecla que hace que la conexión se realice. Puede que esto no suene tan diferente, pero el estilo de la clave tiene un gran impacto en la forma en que escribe.
Cómo funciona un teclado mecánico
En principio, un interruptor de teclado es un dispositivo simple. Está compuesto por un vástago que se adhiere a la tapa de la tecla, sostenido por un resorte. Cuando presiona la tapa de la tecla, eso obliga al vástago a bajar, permitiendo que dos contactos eléctricos se toquen.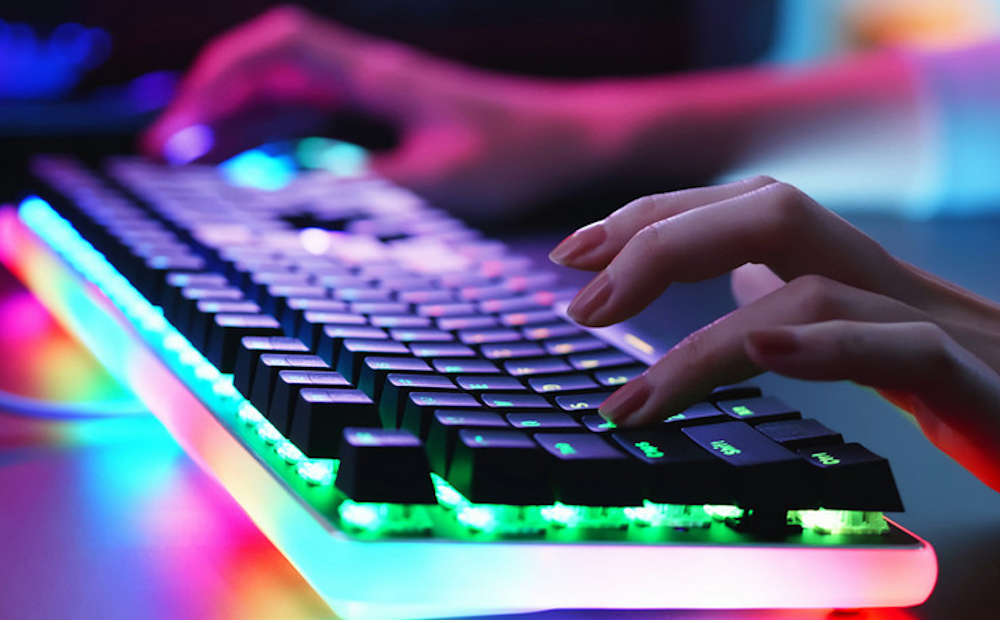 Pero los teclados mecánicos tienen una sensación muy diferente a los teclados de membrana, porque las teclas hacen que se apague un interruptor con resorte y, una vez que se presiona, sentirás o escucharás un clic distintivo. Esto significa que siempre sabrás cuándo se presionó una tecla; no hay dudas sobre si realmente se presionó una tecla.
En comparación, los teclados de membrana tienden a sentirse «blandos» porque están aplicando presión a una cúpula de goma y no hay un clic definitivo para activar un interruptor. Escribir rápidamente en teclados de membrana significa que es más probable que cometas errores.
Aun así, no todos los teclados mecánicos funcionan igual.
Los interruptores de un teclado mecánico se clasifican generalmente en táctiles o lineales. Se debe presionar un interruptor lineal hasta el fondo, mientras que los interruptores táctiles se activan aproximadamente a la mitad, lo que significa que se activan más rápidamente, con menos esfuerzo de escritura.
En cualquier caso, el principio es el mismo: los teclados mecánicos te ayudan a escribir más rápido marcando cada pulsación de tecla con un clic que puedes sentir y oír habitualmente.
Los teclados de membrana son más comunes en gran parte porque son menos costosos que los teclados mecánicos; también son más silenciosos que los teclados mecánicos, que pueden ser bastante ruidosos.
Mejores teclados para escribir, mejores teclados para gaming
Aún así, muchas personas prefieren los teclados mecánicos, especialmente los programadores y los gamers. Ambos grupos aprecian el control y la retroalimentación precisos que brindan los teclados mecánicos.
Mi nuevo teclado mecánico para trading y blogging.#trading #blogger #Trader pic.twitter.com/ajs8hLw24T

— satochi (@satochinakamoko) June 14, 2021
A diferencia de la mayoría de los teclados de membrana, los sonidos, la sensación y la retroalimentación de los teclados mecánicos permiten a los mecanógrafos escribir más rápido y con mayor precisión, y permiten a los gamers o jugadores controlar sus movimientos en el juego con mayor precisión.
Ventajas y desventajas de los teclados mecánicos
Además de la precisión, los teclados mecánicos también tienen una vida útil significativamente más larga. Muchos teclados mecánicos están clasificados para durar entre 20 millones y 100 millones de pulsaciones de teclas, mientras que es típico que un teclado de membrana solo tenga una clasificación de 5 millones a 10 millones.
Los teclados mecánicos también ofrecen características especiales que son de interés para los gamers, como «rollover».
---
---
Rollover asegura que cada pulsación de tecla sea detectada, incluso si las teclas se pulsan simultáneamente. Un teclado mecánico puede hacer esto fácilmente, mientras que los teclados de membrana no son especialmente buenos en eso y, a menudo, cancelan las pulsaciones simultáneas.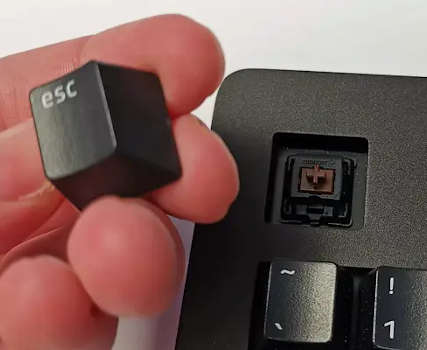 Si una tecla o un interruptor de tu teclado mecánico se rompe, casi siempre puedes reemplazarlos. Las teclas se pueden quitar con un extractor de teclas, una herramienta simple en forma de pinza que probablemente se incluirá con un buen teclado.
Muchos gamers reemplazan las teclas de su teclado mecánico a medida que envejecen, o las reemplazan con teclas personalizadas (como teclas especiales WASD). Y debido a que las teclas se pueden quitar fácilmente, también es fácil limpiar un teclado mecánico.
10 teclados más vendidos en este momento
Bestseller No. 1
Eboxer Gaming Keyboard USB Wired Keyboard with RGB Rainbow Backlit, 104Key Spanish Keyboard with Ñ, Mechanical Keyboard with Blue Switch for Desktop Notebook
This 104-key keyboard also supports Spanish input, allowing you to switch freely.
9 colors led backlit for you choose. Free to change the light colors, brightness, breathing mode and breathing speed. The precisely designed keycaps provide clear and transparent uniform backlighting.
Professional mechanical feeling for gaming pc and office computer, not the real mechanical keyboard, but it well worth. Ergonomic design for maximum comfort, better suit for gaming pc and office computer.
Standard 104 keys led keyboard with USB connector. Enhanced durability and splashproof. Laser carving non fading characters. It has a lifespan of 5,000,000 clicks. Removable keycaps for quick cleaning, do not worry about dust or dirt.
Rebajas
Bestseller No. 2
Havit Mechanical Keyboard, Wired Compact PC Keyboard with Number Pad Red Switch Mechanical Gaming Keyboard 89 Keys for Computer/Laptop (Black)
【Compact Keyboard with Numpad】Unlike bulky full-sized layout, this 85% keyboard saves more desk space but keep the numkeys which is essential. Press Fn+Backspace to lock/unlock the numkeys (Note: The numpad lights up ONLY when it's unlocked, the rest of the keys don't have lighting)
【Colorful PBT Keycaps】 Constructed from unique and high-quality durable PBT keycaps, Havit mechanical keyboard has excellent touch experience and long serving time. Colorful keycaps can bring a more pleasant mood during games or work, decorate your space and enhance your life.
【Red Switches Keyboard for Different Needs】Perfect for office typing or playing games. Havit HV-KB487L wired keyboard frees up your desk during work, after working sessions, you can enjoy the keyboard for gaming, or bring it with you as the size is compact and easy to carry out.
【Ergonomic Comfort】The design of this mechanical gaming keyboard is based on ergonomics, the two keyboard kickstands provide comfortable angle for typing and effectively reduces the burden on the wrist.
Bestseller No. 3
HEXGEARS X5 Wireless Mechanical Keyboard with Kaihl Box Switch-Quicksand Gold, Panda Computer Keyboard for Gaming, Typing, Ergonomic 108-key Typewriter Keyboard with Wrist Rest
Durable: Double-shot PBT keycap insures wearability and anti oily. Premium Kailh BOX Switch endures 100million keystrokes.
Excellent Battery Life: This rechargeable mechanical keyboard has up to 300 Hours Of Battery Life(based on working 8 hours a day with LED lights off).
More than COMFORTABLE: The detachable hand rest design can help prevent carpal tunnel syndrome by giving your wrist a rest while working or gaming. And the GOLD BOX switches bring you responsible and tactile experience. Instead of the colorful capricious lights, our soft white LED backlight does no harm to your eyes.
Convenient: 2.4ghz wireless/wired dual hot swappable working mode, suitable for most systems. You can plug the USB in for immediate use.
Bestseller No. 4
Logitech MX Mechanical Mini Wireless Illuminated Keyboard, Tactile Quiet Switches, Backlit, Bluetooth, USB-C, macOS, Windows, Linux, iOS, Android, Metal
Fluid and quiet mechanical typing: MX Mechanical Mini keyboard features Tactile Quiet switches that deliver next-level feel and flow with less noise - Clicky and Linear switches are also available
Low-profile keys, more comfort: A keyboard layout designed for effortless precision, with a small, compact form factor and low-profile mechanical switches for better ergonomics
Smart illumination: Backlit keys light up the moment your hands approach the cordless keyboard and automatically adjust to suit changing lighting conditions
Faster workflow, more customization: Customize Fn keys, assign backlighting effects, enable Flow cross-computer, multi-device control, and more in the improved Logi Options+ (1)
Bestseller No. 5
GK98 Wireless Gaming Keyboard,2.4G Rechargeable RGB Gaming Keyboard,RGB Backlit Ergonomic 98 Keys Mechanical Feeling Keyboard for Windows Mac PC Xbox PS4 Gamers(GreyWhite)
【High-performance 2.4G Wireless Keyboard】The keyboard adopts the 2.4G wireless solution that is more stable than other, plug-and-play, no complicated connection process, Up to 10m wireless working distance, enables the keyboard to achieve long-range wireless control. helps you get rid of the cable's shackles easily. What makes the keystroke registration instantly is the advanced built-in chip, extremely low latency in the absence of signal interference.
【Grey&White Theme】 - The strong contract of the conventional Dark Grey and the White together feels low-key but full of energetic.We designed this keyboard and chose this color scheme, The compact 98 layout it's still significantly shorter than a traditional full-size 104keys keyboard, which frees up desk space for other gear while still including a number pad.
【Long Battery Life BATTERY】 - GK98 Wirless gaming keyboard battery has two times battery capacity more than most other 60 keyboards. This ensures that GK98 lasts as long as it can with a single charge, with wireless connectivity, Scientific stair-up keycap design keeps your hand in a most natural state and brings maximum comfort. Good choice for gaming or work.
【Wireless RGB Keyboard】This gaming keyboard can be set to Solid Color or RGB Color, and supports a variety of backlight modes, such as breathing mode, horse racing mode, etc., creating cool gaming atmosphere. It can be great for playing the game at night even without light. You can also adjust the brightness and breathing speed of the backlit according to your preference.
Bestseller No. 6
Rebajas
Bestseller No. 7
Corsair K60 RGB Pro Mechanical Gaming Keyboard - CHERRY Mechanical Keyswitches - Durable AluminumFrame - Customizable Per-Key RGB Backlighting, Black
A sturdy brushed aluminum frame with black anodization delivers a stylish, modern look and years of battle-tested durability.
100% German-made CHERRY VIOLA mechanical keyswitches offer smooth linear travel with fast and precise inputs.
Illuminate your desktop with dynamic, per-key RGB backlighting fully customizable with near-limitless colors and effects, enhanced by amplified underglow keycaps with a standard bottom row.
Powerful CORSAIR iCUE software enables dynamic RGB lighting control, key remaps and custom macro programming, and full-system lighting synchronization across all iCUE-compatible CORSAIR devices.
Rebajas
Bestseller No. 8
RK ROYAL KLUDGE RK100 Wireless Mechanical Keyboard, Bluetooth5.1/2.4G/Wired 96% Full Size 100-Key Hot Swappable Gaming Keyboard with LED Backlit, Brown Switch for Mac Windows, Classic
【Full Size Mechanical Keyboard】RK ROYAL KLUDGE RK100 is a wireless mechanical keyboard with compact 100 keys. A 96% full size body can be solid, stable and durable during gaming or working. Especially suitable for the mechanical keyboard starters.
【3 Modes Connectivity】This mechanical keyboard includes 2.4GHz wireless, Type-C-USB 2.0 wired and bluetooth 5.1 modes. Be equipped with a 2.4GHz dongle(adaptor); Connects with up to 3 devices via Bluetooth; N-key rollover (NKRO) in the wired mode, all 100 keys are conflict free.
【Hot-swappable Switches】 RK ROYAL KLUDGE RK100 can be hot swapped at wish and replaced by all of MX-similar mechanical switches(including Gateron, Cherry, etc.), supporting hot swap of 3-pin/5-pin switches. Available in blue/brown/red switch.
【3 USB Ports】This hot swappable keyboard is armed with a 3750mAh large battery and geared with 2 built-in USB pass-through ports and 1 Type-C port, this 96% keyboard is allowed to back up more facilities and works for long-time gaming/working.
Rebajas
Bestseller No. 9
Rebajas
Bestseller No. 10
Razer Huntsman Elite Gaming Keyboard: Fast Keyboard Switches - Clicky Optical Switches - Chroma RGB Lighting - Magnetic Plush Wrist Rest - Dedicated Media Keys & Dial - Classic Black
Faster Than Legacy Mechanical Switches: Razer Optical switches use light-based actuation, registering key presses at the speed of light (30% shorter actuation distance than other clicky switches at 1.5 millimeter) with satisfying, clicky feedback
Ultimate Personalization & Gaming Immersion with Razer Chroma: Fully syncs with popular games, Razer hardware, Philips Hue, and gear from 30 plus partners; supports 16.8 million colors on individually backlit keys
Quality, Aluminum Construction: Covered with a matte, aluminum top frame for increased structural integrity. Keycaps-Regular ABS
Ergonomic, Magnetic Wrist Rest: Made of plush leatherette to maximize comfort over extended gaming sessions (with built-in underglow lighting)