¿Porqué pensar en power banks para laptop? No querrás tener que buscar una toma de corriente mientras la batería de tu laptop se está agotando.
Ya sea que estés en un automóvil, un avión o simplemente experimentando un corte de energía, una batería portátil para portátil, o power bank para laptop,  te permite llevar una carga adicional a donde quiera que vayas.
Además, tener una batería portátil para laptop en tu arsenal es una buena idea, especialmente si viajas mucho o te gusta hacer más trabajo mientras viajas hacia y desde la oficina. Realmente, en estos días, no deberías ir a ningún lado sin uno; a veces coinciden la importancia de enviar un proyecto y un agente externo que cause retrasos en el trayecto.
¿Dónde conecto mi laptop?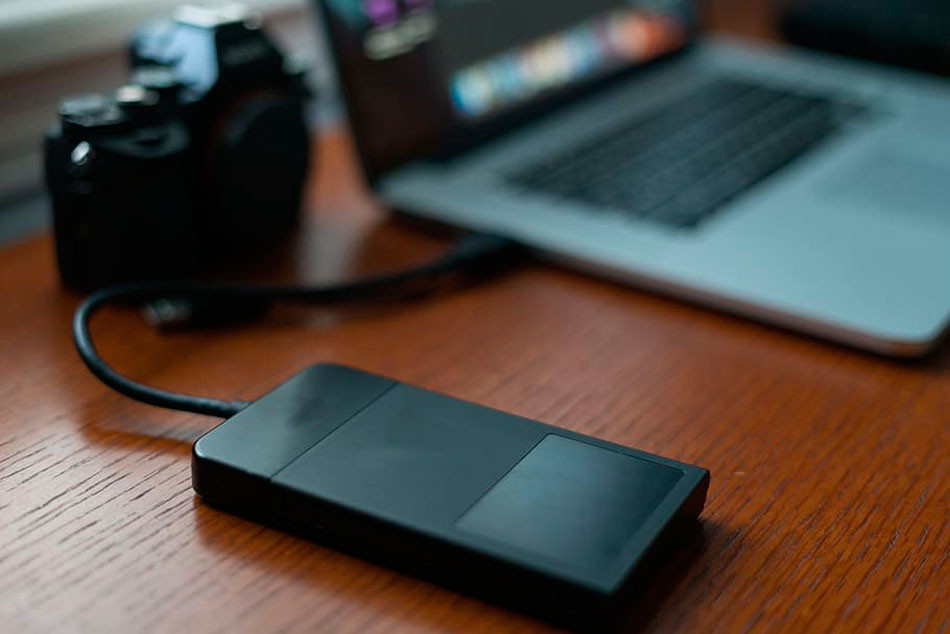 Si bien la duración de la batería de muchas de las mejores laptops ahora es más larga que nunca, la longevidad aún depende de cuán exigentes sean las tareas que están manejando. Y no es fácil encontrar un tomacorrientes en cualquier lugar, incluso las cafeterías de renombre como Starbucks están haciendo que los puntos para enchufes sean inaccesibles para los clientes.
La buena noticia es que muchas laptops hoy en día están diseñadas con USB-C para carga. Por lo tanto, los cargadores de baterías para laptops se han convertido rápidamente en una parte integral de la configuración de cualquier profesional, específicamente aquellos que trabajan de forma remota o disfrutan trabajar en un café. Y, al igual que los bancos de energía regulares, vienen con una variedad de opciones de puertos, algunos incluso vienen con una toma de CA para aquellos cuyas computadoras portátiles no ofrecen carga USB-C.
Beneficios de los power banks para laptops
Cargar tu laptop con un power bank (banco de energía) tiene varios beneficios. Aquí te menciono algunos:
Portabilidad: Los power banks son dispositivos portátiles y compactos que puedes llevar contigo fácilmente. Esto te permite cargar tu laptop en cualquier lugar donde tengas acceso a tu power bank, sin necesidad de estar cerca de una toma de corriente eléctrica.
Energía adicional: Los power banks generalmente tienen una capacidad de carga significativa, lo que te brinda energía adicional para tu laptop. Si te encuentras en un lugar donde no hay enchufes disponibles o experimentas cortes de energía, un power bank puede ser una solución conveniente para mantener tu laptop funcionando.
Carga rápida: Los power banks modernos suelen estar equipados con tecnologías de carga rápida, lo que significa que puedes cargar tu laptop más rápidamente en comparación con algunos adaptadores de corriente tradicionales. Esto es especialmente útil cuando tienes poco tiempo y necesitas cargar tu laptop de manera eficiente.
Fuente de respaldo: Si te encuentras en una situación en la que la batería interna de tu laptop está agotada y no tienes acceso a una toma de corriente, un power bank puede actuar como una fuente de respaldo para mantener tu laptop encendida. Esto es útil, por ejemplo, durante viajes largos o en situaciones de emergencia.
Es importante tener en cuenta que, al elegir un power bank para cargar tu laptop, debes asegurarte de que sea compatible en términos de voltaje y amperaje con tu dispositivo. También es recomendable utilizar power banks de calidad y de marcas confiables para garantizar un rendimiento seguro y eficiente.
¿Qué deben tener los mejores power banks para laptop?
Sin embargo, obtener un cargador de batería portátil para laptop o un power bank no es tan sencillo. Debes verificar qué laptops admiten estos cargadores, ya que algunas laptops todavía vienen con cargadores patentados, y asegúrate de que tenga el conector correcto para enchufar tu laptop.
Es posible que las laptops hambrientas de energía, como las laptops para juegos, no funcionen con ellos.
Finalmente, verifica qué tan grandes son tus baterías internas, ya que esto determinará cuántas veces el cargador puede cargar una laptop y su tamaño total, ya que no deseas tener que cargar con un cargador grande y pesado.
Capacidad: lo primero es lo primero, para cargar completamente una laptop, necesita muchos miliamperios-hora (mAh). Cualquier cosa por encima de 20,000 mAh es suficiente para ofrecer hasta 25 horas adicionales de duración de la batería para una laptop típica de 13 pulgadas.
Portabilidad: Por supuesto, podrías conseguir más de 20.000 mAh en una powerbank. Hemos visto baterías que superan los 50,000 mAh, pero eso se logra a expensas de la portabilidad que ofrece una laptop: la capacidad de llevarla mientras viajas. El tamaño y el peso son importantes aquí.
Puertos: USB-C es la opción principal para cargar una laptop a un ritmo razonablemente rápido, ya que puede transportar suficiente voltaje para hacer más que simplemente alimentar los componentes (generalmente alrededor de la marca de 20 V). Pero eso no significa que deba cargar solamente tu laptop. Muchas opciones vienen con una variedad de puertos para cargar teléfonos, tabletas y otros dispositivos. Cuanto más versátil, mejor.
Encontrarás que el power bank para laptop ideal valdrá la pena el esfuerzo.
Los mejores power banks para laptop
1. Imuto
Power bank para laptop macbook
Rebajas
imuto Portable MacBook Pro/Air Charger, 100W Power Bank with 90W USB-C Charger Bundle (1.5 Hrs Recharge), 99wh (27200mah) Portable Laptop Charger for Dell XPS, Lenovo, iPhone 14/13, Samsung, iPad Pro
【With PD Charger 】Ultra-Powerful Two-Way Charging,Recharge 8X Faster.100W USB-C input to recharge the power bank in only 1.5h...
【100W Higher Power】suitable for gaming laptops, faster and more efficient than 65W. 30 minutes for MacBook Pro 16-inch 2023...
【27200mAh Large Capacity】Compared with the first generation X4G (20000mAh), the utilization rate is 1.5 times higher.Fully...
【Worry-free outdoor charging】 This power bank supports charging the USB-C solar panel, solving outdoor charging problems...
【Airline Friendly/TSA approved】The imuto X6G can be brought with you in your carry-on luggage.It's capacity...
2. Iniu
Power bank para laptop
No products found.
3. Shargeek STORM2
Power bank para laptop
Shargeek STORM2 100W Power Bank 25600mAh with Transparent Case and IPS Screen & Shargeek 100W USB C Charger with USB C*3 and USB A*1 Ports
25600mAh & 100W: Equipped with 8 A gauge high quality 3200mAh batteries, featuring PD 100W USB C ports, the Shargeek 25600mAh...
Intelligence IPS Screen: The portable phone charger's on-display power management system visualizes the battery life, output...
World's First See-Through Power Bank: The see-through and transparent design reveals STORM 2's sophisticated internal structure...
100W Max Output: SHARGEEK 100W PD fast usb c charger can support a maximum output of 100W and is capable of providing fast,...
Advanced GaN Technology: This 100w wall charger is powered by the industry-leading GaN(gallium nitride) technology, which makes it...
4. Amcrest
Power bank para laptop
5. Anker
Power bank para laptop
Rebajas
Anker 737 Power Bank (PowerCore 24K), 24,000mAh 3-Port Portable Charger with 140W Output, Smart Digital Display GaNPrime 65W Charging Station, 615 USB C Power Strip for Travel and Work
Ultra-Powerful Two-Way Charging: Equipped with the latest Power Delivery 3.1 and bi-directional technology to quickly recharge the...
High Capacity: Featuring a 24,000mAh battery capacity, juice up an iPhone 13 almost 5 times or a 2021 iPad Pro 12.9" 1.3 times.
Space-Saving and Travel-Ready: The compact power strip takes up very little space on your desk or in your bag and is easy to carry...
All-Round Protection: ActiveShield 2.0 enhances protection by intelligently monitoring temperature, and a new generation of GaN...
What You Get: Anker 615 USB Power Strip (GaNPrime 65W) with 3ft (0.9m) extension cord, welcome guide, 24-month warranty ($25,000...
6. BoxWave
Power bank para laptop (compatible con Lenovo)
BoxWave Charger Compatible with Lenovo ThinkPad T14 (21AH) - Rejuva 100W PD Power Pack (30,000mAh), High Capacity 100W PD Power Bank - Slate Grey
???? [100W POWER DELIVERY] BoxWave Charger Compatible With Lenovo ThinkPad T14 (21AH). The Rejuva 100W PD Power Pack is capable of...
???? [HIGH CAPACITY 30,000mAh] Stores high capacity of 30,000mAh for WORRY-FREE power to charge all of your tech tools for your...
???? [EASY TO USE] Simple 1-button operation quickly DISPLAYS the amount of juice remaining in the Rejuva Power Pack, so that you...
???? [STYLISH] The rechargeable battery is built within an elegant, sturdy ALUMINUM ALLOY body. Stylish and suitable for any...
???? [COMPATIBLE] Compatible with your ThinkPad T14 (21AH) along with almost all USB C powered devices and supports PD3.0, QC3.0,...
8. Lenovo Go
Power bank para laptop Lenovo
9. HALO Bolt
Power bank con capacidad de encendido de auto
Rebajas
HALO Bolt Wireless Laptop Power Bank - 44400 mWh Portable Phone Laptop Charger Car Jump Starter with AC Outlet and Car Charger, Camo
WIRELESS CHARGER - This fast wireless charger quickly charges your phone without the need for a lighting cable. Just place your...
TSA COMPLIANT USB POWER BANK -  Two USB 2.4V charging outputs means this iPhone, Samsung Galaxy, or iPad Portable Charger powers...
UNIVERSAL LAPTOP AND PHONE CHARGER  - Keep your Mac, PC, phone or tablet charged when traveling or use as a backup during a...
CAR JUMP STARTER - Battery trouble isn't an issue when your universal power bank includes enough power to jump start your car,...
ALL IN ONE EMERGENCY KIT -  Dual USB phone charger, AC Outlet power bank, battery car jump starter, jumper cables, LED flood...
10. Amcrest
Power bank para laptop