Los mejores cargadores portátiles para laptop 2022
Mantén tu laptop cargada cuando trabajes desde cualquier parte con nuestra selección de los mejores powerbanks y cargadores portátiles para laptop 2022.
Tener el mejor power bank para laptop o el mejor cargador de batería de laptop en tu arsenal portátil es una buena idea, especialmente si viajas mucho o te gusta hacer más trabajo mientras viajas hacia y desde la oficina. Realmente, en estos días, no deberías ir a ningún lado sin uno.
¿Dónde conecto mi laptop?
Si bien la duración de la batería de muchas de las mejores laptops ahora es más larga que nunca, la longevidad aún depende de cuán exigentes sean las tareas que están manejando. Y no es fácil encontrar un tomacorrientes en cualquier lugar, incluso las cafeterías de renombre como Starbucks están haciendo que los puntos para enchufes sean inaccesibles para los clientes.
La buena noticia es que muchas laptops hoy en día están diseñadas con USB-C para carga. Por lo tanto, al igual que los power banks para adolescentes dependientes de sus smartphones, los cargadores de baterías para laptops se han convertido rápidamente en una parte integral de la configuración de cualquier profesional, específicamente aquellos que trabajan de forma remota o disfrutan trabajar en un café. Y, al igual que los bancos de energía regulares, vienen con una variedad de opciones de puertos, algunos incluso vienen con una toma de CA para aquellos cuyas computadoras portátiles no ofrecen carga USB-C.
Sin embargo, obtener un cargador de batería portátil para laptop o un power bank no es tan sencillo. Debes verificar qué laptops admiten estos cargadores, ya que algunas laptops todavía vienen con cargadores patentados, y asegúrate de que tenga el conector correcto para enchufar tu laptop. Es posible que las laptops hambrientas de energía, como las laptops para juegos, no funcionen con ellos. Finalmente, verifica qué tan grandes son tus baterías internas, ya que esto determinará cuántas veces el cargador puede cargar una laptop y su tamaño total, ya que no deseas tener que cargar con un cargador grande y pesado.
Encontrarás que el power bank para laptop ideal valdrá la pena el esfuerzo.
Los mejores cargadores portátiles para laptop 2022
Hemos reunido entonces los mejores cargadores portátiles para laptops, que pueden ahorrarte tiempo y todas las molestias. Eche un vistazo a nuestras mejores selecciones a continuación.
1. MAXOAK Laptop Power Bank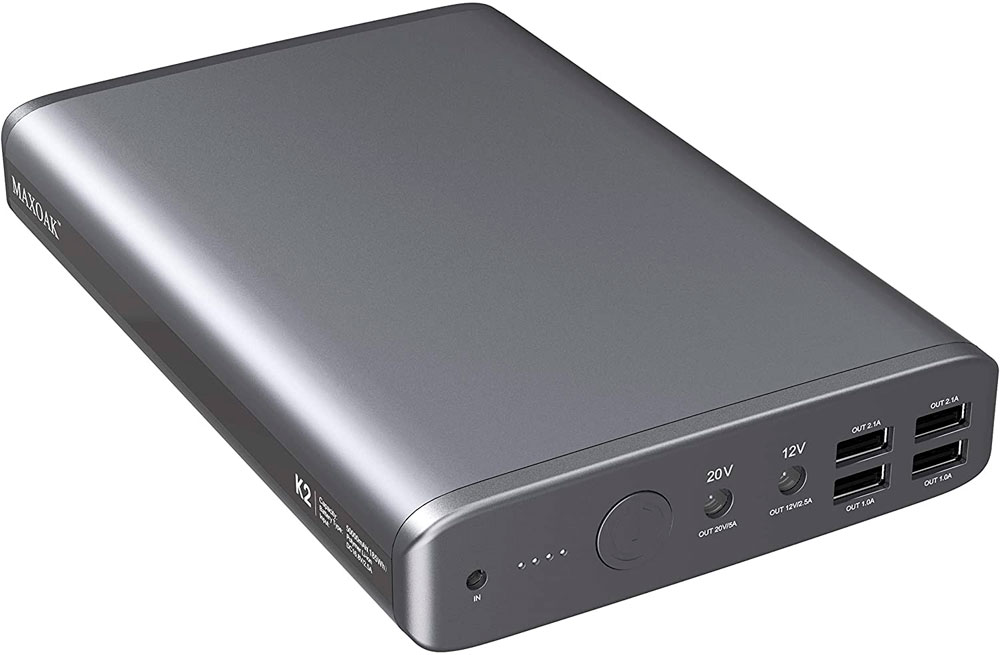 Capacidad: 50,000mAh | Salidas: 1 x DC20V/5A, 1 x DC12V/2.5A, 2 x USB 5V/2.1A y 2 x USB 5V/1A | Potencia: 130W
+ Viene con adaptadores de CC
+ Compatible con una variedad de portátiles
– No aprobado por TSA
Los powerbanks para laptops son algo complicado. La mayoría de ellos solo son compatibles con laptops específicas, según el puerto de salida disponible y la tasa de transferencia de energía.
Por suerte, tienes el Power Bank para portátiles MaxOak. Con una potencia máxima de 130 W y dos salidas de CC, sin mencionar la variedad de adaptadores de CC incluidos, este power bank es compatible con muchas laptops. Eso lo hace útil para hogares con múltiples tipos de laptops y dispositivos portátiles. Desafortunadamente, esto no está aprobado por la TSA, debido a sus 185 Wh, que supera el estándar TSA de 100 Wh. Sin embargo, es ideal para viajes por carretera, campamentos y viajes en tren.
2. OmniCharge 20+ 20000 mAh

Capacidad: 20 000 mAh | Salidas: 1 salida de CA, 1 entrada/salida de CC, 1 entrada/salida USB-C, 2 USB-A |  Alimentación: 100 W CA y CC | 60 W USB-C PD
+ Aprobado por TSA
+ Tiene una toma de CA
+ Características de transferencia de carga
Con solo 70 Wh, el OmniCharge 20+ 20000 mah está aprobado por la TSA, lo que lo convierte en un excelente compañero para viajes de trabajo al extranjero y si tienes largas escalas.
Es compatible con laptops USB-C de 60 W como la MacBook Pro de 13 pulgadas y la Dell XPS 2 en 1, pero con su salida de CA de 100 W, también es ideal para otras laptops y otros dispositivos tecnológicos como las DSLR.
Finalmente, cuenta con carga de paso, por lo que puede cargarlo mientras alimenta simultáneamente los dispositivos a través de los puertos de CA o USB-A. Es un poco más caro que el MaxOak Laptop Power Bank. Sin embargo, su versatilidad hace que valga la pena el precio más alto.
3.  HALO Bolt 58830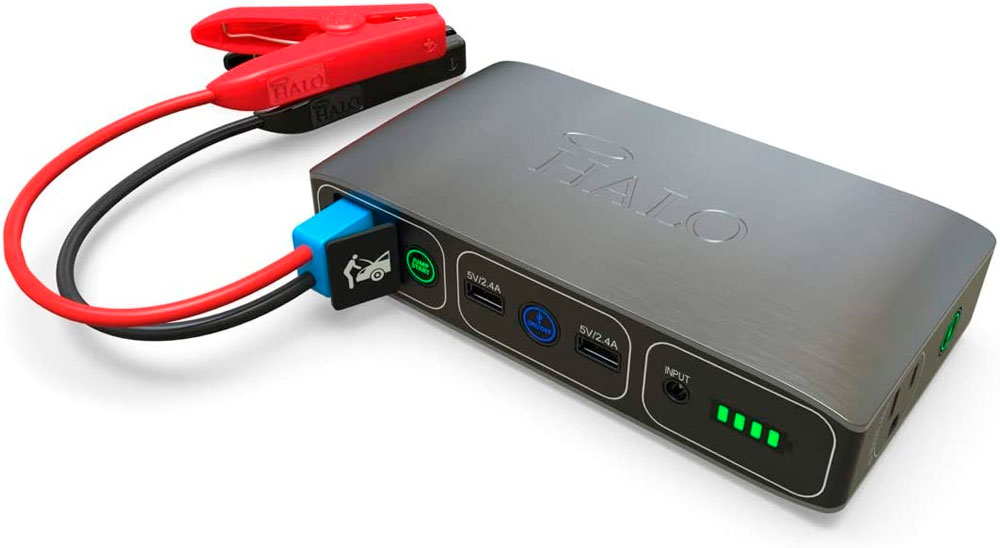 + Tiene una toma de CA
+ Puede arrancar un coche
+ Asequible
– No muy resistente
El HALO Bolt 58830 no es solo un cargador portátil para laptop, aunque es efectivo gracias a su toma de CA. Ideal para ordenadores portátiles que consumen hasta 60 W de potencia, este cargador portátil también está diseñado para arrancar un coche. Incluso tiene su propio puerto de arranque auxiliar y viene con su propio juego de cables auxiliares. Y, a diferencia de otros cargadores portátiles para laptops, que solo vienen en uno o dos colores, este viene en siete colores/patrones de diseño diferentes, lo que lo hace ideal para las personas a las que no les gusta el enfoque minimalista.
Desafortunadamente, no tiene un puerto USB-C, por lo que la salida de CA debería encargarse de la mayoría de las necesidades de carga de tu laptop.
4. Krisdonia 50000mAh Power Bank tipo C para laptop

Capacidad: 50 000 mAh | Salidas: 1 x DC 5 V/8,4 V/9 V/12 V/16 V/20 V, 1 x USB 5 V/9 V/12 V, 1 x USB-C 5 V/9 V/12 V | Potencia: 185 Wh
+ Ideal para viajes largos
+ Función de transferencia
+ pantalla LED
– No aprobado por TSA
---
---
Este powerbank de capacidad increíblemente alta podría tener demasiada energía para llevar en un vuelo. Sin embargo, es ideal para viajes largos por carretera.
También es increíblemente versátil, con 28 conectores de laptops diferentes y un adaptador Magsafe 2 para adaptarse a casi cualquier laptop bajo el sol.
Este cargador para laptops también tiene una función de paso que se puede encender y apagar fácilmente, así como una pantalla LED que muestra el voltaje y el nivel actual de la batería. Desafortunadamente, a pesar de que es el cargador de mayor capacidad en esta lista con una capacidad de 50,000 mAh, puede cargarse completamente en 6-8 horas; por lo tanto, la carga durante la noche es obligatoria.
7 cargadores portátiles más vendidos
Bestseller No. 1
Laptop Power Bank, Baseus 100W USB C Portable Laptop Charger, Super Fast Charging 20000mAh Slim Battery Pack for Laptop, MacBook Air, Dell, IPad, HP, iPhone, Samsung Galaxy, Switch and More (Black)
【100W Power Delivery】Crafted with 2 PD USB-C ports certified for PD 3.0 and PPS with a power output going up to 100W, allowing you to fast charge your MacBook Pro 16-inch up to 36% in only 30 minutes. Meanwhile, cut the recharge time down to 1.5hrs with the included USB-C to C cable and a 60W USB-C PD wall charger(not included).
【Thin Lightweight Design】0.7-inch ultra-slim finish, thinner than a laptop to easily slide in your bag and hit the road; the 4 paddings keep it from shifting around or rubbing against rough surfaces.
【Two-way Fast Charging】Baseus 100W laptop power bank houses 2 USB-C ports supporting 100W output and 65W input, plus 2 fast charging USB-A ports compatible with laptops, smartphones, and all low to high-power portable devices.
【Large Capacity】20000mAh battery pack tested to charge a drained iPhone 13 Pro Max to 100% up to 2.5 times, 3.4 times for the Galaxy S20 and 1.2 times for the MacBook Pro 13-inch, ideal for business trip and travel.
Bestseller No. 2
Portable Laptop Charger, 31200 mAh High Capacity USB C Power Bank with 100W AC Outlet, Fast Charging External Battery Pack Compatible with MacBook, iPhone, Samsung, HP, Dell, Lenovo and More (N5)
【Large Capacity & Multiple Compatibility】- 31200mAh/116Wh(100W Max.) portable charger can provides enough juice to power 12" MacBook for 1.8 times, an iPad Mini 4 for 4 times, an iPhone X for 8 times, or a Galaxy S9 for 5 times. This AC power bank compatible with a wide variety of laptops, phones, cameras, fans, and other electronic gadgets appliances. It's perfect for your travel and business trip.
【Three Output & Fast Charging】- This portable power bank is equipped with 100W AC output, 17W USB output, and 18W Type-C output, which can charge the equipment you need and quickly charge multiple things at one time. Awesome for working outside or anywhere you don't have power.
【Intelligent Safety Protection】- This USB C portable charger is a built-in smart cooling system and a charging indicator, multiple protection procedures to avoid short circuit, over-current, over-discharge, and over-charge of your equipment, balance the working temperature, safe and not hot.
【Emergency Battery Backup for Outdoors】- This portable battery pack size: 2.7 x 2.7 x 8.3 inches, weight: 2.1lb. You can easily put it in your briefcase, backpack, or carrying bag. Keep your laptops, phones, fans, LED lights, cameras powered when you're on the go. The external battery power bank built-in a small flashlight, it is perfect for a dark night in times of emergency.
Bestseller No. 3
Anker 737 Power Bank (PowerCore 26K for Laptop) with 65W USB-C Charger, Works for MacBook Pro, Dell XPS, Microsoft, Pixelbook, iPhone 13/13 Pro / 13 Pro Max / 13 Mini, Samsung, iPad Pro, and More
Ultra-High Capacity: With a massive 25,600mAh capacity, you can keep multiple devices charged for days. Charge an iPhone 13 Pro 5 times, a Galaxy S20 more than 4 times, or a MacBook Air 2020 once.
Blazing Fast Speeds: Connect to either USB-C port to get a powerful charge of 87W. Power a wide range of laptops, including MacBook Pro 13.4" in 2h 14min and Dell XPS 13 9380 in 2h 54min
Recharge 6x Faster: By using a 65W wall charger, PowerCore's internal battery fully recharges in just 2.5 hours, while a standard 5W charger will take more than 17 hours to top up.
Power 4 Devices At Once: Dual USB-C ports offer simultaneous high-speed charging to 2 devices, and dual USB-A ports let you charge 2 extra devices with a combined output of 78W.
Rebajas
Bestseller No. 4
88.8Wh|65Watts Portable Laptop Charger with AC Outlet, A Super Travel Portable Battery Pack & Power Bank for HP, Notebooks, MacBook, Laptops
Remarkably Compact & Power: One of the smallest and lightest 24000mAh 88.8Wh portable power bank with 110V/65W AC outlet, a great solution to AC power supply. Provides enough power to most of your devices such as smartphone, tablet, and laptop. It's perfect for your travel and business trip.
High-Speed Charging: Recharges itself less in 4 hours with a high-speed DC15V/2A (30W) input. you can monitor the battery level with OLED display any time. The car charger accessories can make SinKeu recharge in your car.
Universal Charger: Our product includes QC3.0 9v/2A and 5V/3A two USB outputs, one 110V AC outlet, one DC 9~12.6V/10A (Max) output, which means this charger can power your multiple devices at once. It can charge your iPhone and Galaxy up to 8 times, or 2 times for your 12'' Macbook.
Certified Safe: UL safety certified battery pack, CE, FCC, and RoHS approved. SinKeu's Multi-Protect safety system ensures complete protection for you and your devices.
Bestseller No. 5
Omni 20+ 20000mah Laptop Power Bank | AC/DC/USB-C/Wireless Battery Backup for Laptops:MacBook Pro/iPad Pro/Dell/Surface | Cameras:Canon/Nikon/DSLR/DJI Drones | Smart Devices:iPhone/Samsung
【Power Hub For All Your Smart Devices】From laptops to cameras, drones, and smartphones, Omnicharge can keep all your devices charged up. Compact and functional.
【Extensive Features】All-In-One power solution with high powered AC, USB-C PD for laptops, Wireless charging, QC 3.0 USB-A, Adjustable DC power, pass-through charging and solar charging.
【High Powered, Fast Charging】70wh (20000mah) battery capacity. Charge safe and fast with high charging efficiency. 100 watt AC and DC, 60 watt USB-C PD, powers most smart devices including MacBook Pro and Surface Pro.
【Carry Less, Power More】Carry one cable to charge your laptop using USB-C or DC output while charging your Qi-compatible smartphone wirelessly, leave your bulky chargers at home
Bestseller No. 6
Anker Portable Charger, PowerHouse 100 97.2Wh with 100W AC Outlet/45W USB-C Power Delivery Port, Power Bank for iPhone, Samsung Galaxy, iPad, MacBook, and More
Built-In 100W Wall Outlet: Charge mobile devices, laptops, drones, cameras, and small appliances—all from a single compact power source.
Simultaneous Charging: With a 45W USB-C port, 2 USB ports, and a 100W AC outlet, you can now charge up to 4 devices at once without sacrificing power.
Huge Capacity: Equipped with a huge 27,000mAh capacity to charge a 2020 MacBook Air 1.5 times, a DJI Mavic Mini 3-4 times, and an iPhone 11 up to 5 times.
High-Speed Charging: Use the 45W USB-C port to fully charge a 2020 MacBook Air in just over 2 hours.
Rebajas
Bestseller No. 7
ALLPOWERS Portable Charger 41600mAh Power Bank with AC Outlets USB Wireless 110V200W Laptop Power Bank Fast Charging Battery Pack for Cell Phone Camera Drone
【Widely Range of Application】: With 154Wh battery pack, ALLPOWERS Portable power bank is powerful enough to charge laptops, phones, cameras, drones, holiday lights and more, meeting different kinds of electricity demands usage for outdoor working, learning, emergency, trips.
【Huge Capacity of Portable Power Bank】:ALLPOWERS portable power station features 2*AC ports(110V 200W), suitable for laptops when outside; 2*USB ports and 1*USB-C(60W max) port mean all your needs for iPhone, Samsung Galaxy, Macbook or iPad; 1*Wireless charger supports most smart phones that equipped with QI standard technology or other QI enable devices.
【Huge Energy in Mini Size】: The laptop power bank only weights about 3 lbs with size 7.87*6.7*1.96 inch, easy to put in a bag. 200W/ 154WH /41600mAh capacity allows you to power 3 hours for laptop, 14 times for phone and 8 times for iPad. Ideal external battery for outdoor work, learning in library, laptop using in cafe.
【4 Charger Ways】: It takes only 1.5 hours to fully charged via wall outlet and USB-C charger at the same time. Wireless portable charger supports 3 separated ways to recharge. AC 110v wall outlet 36W max (included, 5-6 hours) , Solar panel 99W max (not included, 1.5- 2hours), and USB-C Charger 60W max (not included, 2-3 hours)